Meet Dr. Anthony Fort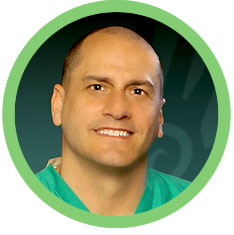 I have always been interested in health and have participated in many sports since I was a young boy. This included Judo, where I was a Jr. Silver medalist, football and wrestling.
How I Made the Decision to Become a Chiropractor
I was taking pre-med classes to become an orthopedist and working at the Mayo Clinic, while training for a sprint triathlon, when I began to have low back pain and pain down my left leg. The doctors that I was training with assured me that they would be able to help me. They provided me with anti-inflammatories and pain medicine that not only did not help me, but it had its own set of side effects.
They tried sending me to Physical Therapy, which helped slightly, but I still continued to have this awful pain. It was not long before I tried Chiropractic out of desperation. I had heard very little about it and was more than skeptical at first, but I held in there followed up as recommended, and kept learning more and more about how you can treat the actual cause of the pain rather than masking it with pain medication. It wasn't long before I began to see phenomenal results!
That was the moment that I decided that I wanted to become a Chiropractor. It made perfect sense to me.
Why should I take medication with side effects only to cover up the symptoms when I can allow my body to heal itself, the way it's supposed to do? That is where the passion to help people through Chiropractic care began.
Dr. Anthony Fort
I began researching Chiropractic schools very shortly after that decision. I made many trips to different schools and finally decided on Life College in Atlanta, GA. I finished my under graduate work in the basic Sciences including Physics, Inorganic Chemistry, Organic Chemistry, Biology, Anatomy, and Physiology before being accepted into Life College of Chiropractic.
After being accepted in to Chiropractic School, I began to get more into the courses that would lead me to my career; Biochemistry, Anatomy, Human Physiology, Spinal Biomechanics, X-ray Physics, and Technology, Diagnosis of Human Conditions, Chiropractic Adjusting Techniques, and of course Patient Care. It was an honor to also be recognized at Clinician of the Year by my Fraternity in my last year of Chiropractic School.
Continuing Education
Every year my staff and I attend various seminars to update ourselves with the newest research, technology, and developments in the Chiropractic profession. We believe this will help keep our skills sharp and better serve our patients.
I feel that the more educated our patients are about their health, the better decisions they are able to make regarding their health. I regularly hold mini Health seminars about the various aspects of health; this includes nutrition, exercise, proper sleeping habits, emotional well being, and how to maintain a healthy nervous system. I have learned that the more involved a patient is in their health, the more empowered they will be to conquer their specific health challenges and achieve their personal health goals.
We teach our patients not only how to get healthy but to maintain that state of health and improve upon it. This is our personal goal for each and every single patient.
EXPLORE CHIROPRACTIC »
Living by Example
My wonderful wife, Gloria, myself, and our daughter Angelica Victoria, all enjoy the benefits of a healthy lifestyle. Our entire family receives periodic Chiropractic wellness check-ups. I feel it is important to live by example in guiding others to their optimum health. I am also personally involved in the "Big Brothers" Program here in Jacksonville, Florida. I enjoy taking my "little brother" to baseball games, Jaguar football games, and he especially loves it when we visit Chuck-E-Cheese. I treat his entire family as well. I want to let everyone know about how Chiropractic care can change your life!
My family and I do our best to use natural approaches to health in our everyday life. We all take daily vitamins, participate in a healthy and nutritional diet, and get daily exercise. The human body has an innate ability to heal itself and maintain its healthiness on its own. It always has and it always will. That is why I firmly believe that if you have a health challenge the first thing you need to do is remove the interference that is keeping the body from being able to heal itself.
Enough about me though! How can we help you with today's safe and natural chiropractic care? Contact us so we can help you take your first step towards better health. My staff and I would be more than happy to assist you with any more questions or concerns that you may have.
Yours in Health,
Dr. Anthony Fort

Dr. Anthony Fort | (904) 996-8660